»After Eight« Mint Chocolate Ice Cream (raw, vegan)
reading time: ca. 1 min
The most amazing ice cream without ice cream maker

Preparation time: 10 mins + 3 hours freezing time
Main ingredients: banana, mint, cacao
difficulty level: easy
serves: 1-2
suitable for: vegan, lactose-free, gluten-free,
nut-free, soy-free, paleo,

raw food,

low-fat
I'm not sure if the pictures do this knock-your-socks-off ice cream any justice. Because this might just be my Number One favourite!! Hands down, this is the best-est ice cream creation i have come up with so far. It's seriously soo good, i can't even put into words, you just gotta make it yourself!
You should probably be fond of chocolate and mint though, cause this is basically "After Eight" in ice cream form. Nomnomnom! I love love love the mixture of the fresh mint and the sweet chocolate... and the texture of the brownie bites of course which are just to die for!
I don't know what else to say except for: make this. eat it. cherish it.
Also i'd like to mention that both the nicecream and the brownie bites were heavily inspired by the awesome-rawsome Amanda from Raw Manda!
Ingredients
Mint:
3 1/2 large ripe bananas, frozen
around 5 chopped fresh mint leaves
a good handful cacao nibs (crushed cacao beans)
a little bit of Vitamineral greens powder for colour (optional) - i

use

Chlorella

powder
Chocolate:
1/2 large, ripe banana, frozen
1-2 tsp cacao powder
around 2 tsp agave syrup
1 tsp Maca powder (optional)
Bits of raw nutfree fudge brownies (take them out of the freezer as you start making the ice cream)
also:
- a high-speed blender or food processor (NO NEED FOR AN ICE CREAM MAKER!)
Instructions
First: The Mint Ice Cream.
Place frozen banana pieces in your blending machine (i'm using my beloved food processor), add a splash of soy milk or water to get the blender going and process until creamy stiff. Then add chopped mint leaves, cacao nibs and some Vitamineral greens or

Chlorella

powder
for more green colour

! Alternatively, add 1 or 2 tsp of Matcha powder. Then blend again until everything is evenly distributed throughout the ice cream. Scoop out into your favourite bowl and set aside in the freezer to prepare the chocolate swirl.
Now for the Chocolate Swirl, process remaining 1/2 banana with cacao powder, agave syrup and Maca powder if you happen to have some at hand (who d

oes

?! but maybe you should - it's an aphrodisiac ;) Add a splash of soy milk if necessary, and blend until nice and creamy.
Take out the mint ice cream and spoon the chocolate ice cream into it, creating a swirl sort of pattern. Top with additional cacao nibs, fresh mint leaves and of course your de-frosted brownie bits! Then enter chocolate mint heaven and sink into food coma :)
A big thank you to Lori and Cathy for featuring me over on Tickle My Tastebuds again this week! I feel so lucky today :)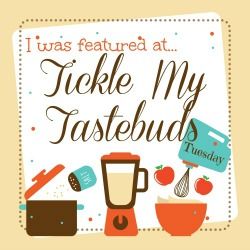 Meet the proud parents of this food porn creation: