Hot Wintry Butterbeer (vegan)
reading time: 2 min
»Why don't we go and have a butterbeer in the Three Broomsticks, it's a bit cold, isn't it?«

Harry Potter and the Goblet of Fire, J. K. Rowling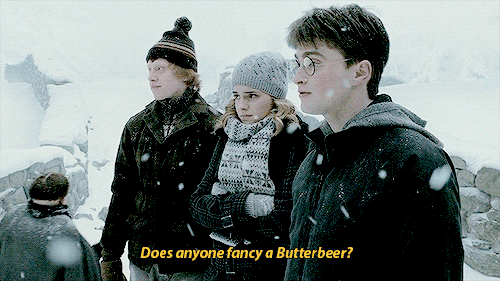 Last month I shared my interpretation of the butterscotch-flavoured classic butterbeer that is served at The Three Broomsticks in Hogsmead, as close to what is assumed to be the recipe – a blend of malt beer (or substitutes such as cream soda or ginger beer), butterscotch sauce and whipped cream, as it is served at The Wizarding World of Harry Potter.

Today, however, I want to present to you my more delicious, creamy and cosy version of the popular magic drink. Made with wintry spices, milk, butter, and whipped cream, it perfectly fits the Christmas season. It is a very decadent drink that resembles a gingerbread chai latte, hot chocolate, or vegan eggnog.

This recipe is short and sweet (literally, it is pretty sweet), and you can whip this up in no time, even without a magic wand! And your kids are going to love this, too.

While this recipe doesn't exactly taste like the butterbeer in the books, it's super delicious and will bring back fond memories of the magical world. Enjoy this spicy warm version snuggled up during your next Harry Potter movie marathon :)

VEGAN HOT WINTRY

BUTTERBEER
Preparation time: 5 mins
Main ingredients: malt beer

, sugar, butter
difficulty level: easy
serves: 4
suitable for: vegan,

lactose

-free, gluten-free, nut-free, alcohol-free
2 cups (500 ml) malt beer
2 cups (500 ml) full-fat oat milk (I use Alpro Not M*LK)
1/2 cup vegan butter (I use the German brand Alsan bio)
1/3 cup to 2/3 cup brown sugar (depending on how sweet you like it – I prefer less sugar)
1 tsp ground cinnamon
1/2 tsp ground nutmeg
pinch of salt

vegan whipped cream, to serve
date syrup, to serve

Instructions:
In
a small saucepan, heat up brown sugar and 4 tbsp of oat milk over medium heat, stirring constantly. Once the mixture starts to bubble lightly, switch to low heat, and carefully add the vegan butter, malt beer, remaining oat milk, and spices.

Continue to stir until the sugar and butter have completely melted. W
hisk vigorously until frothy.


Pour into heat-proof mugs, leaving room for the whipping cream on top. Top with a generous dollop of vegan whipped cream and some date syrup drizzled over the whipped cream – don't skip this part, as it adds that lovely caramel flavour to the beverage!


Serve hot. Cosy up with a cuddly blanket and a Harry Potter book, and enjoy.


Yum!

Also check out my other butterbeer creations: