Bilbo's Seed Cakes (vegan)
reading time: 5 min

»Come along in, and have some tea!« he managed to say after taking a deep breath.
»A little beer would suit me better, if it is all the same to you, my good sir,« said Balin with the white beard. »But I don't mind some cake -- seed-cake, if you have any.«
»Lots!« Bilbo found himself answering, to his own surprise; and he found himself scuttling off, too, to the cellar to fill a pint beer-mug, and to the pantry to fetch two beautiful round seed-cakes which he had baked that afternoon for his after-supper morsel.
The Hobbit, J.R.R. Tolkien


Did you know that The Hobbit was originally published on 21 September 1937, so almost exactly 84 years ago? Since it's also technically Bilbo's and Frodo's birthday today (one day after my own birthday, if I might add), let's celebrate with my take on (vegan) seed cakes!

Although I don't love The Hobbit nearly as much as I love The Lord of the Rings, it is one of my favourite scenes both in the book and in the movie when in chapter 1 of the book, "An Unexpected Party", one dwarf after another shows up uninvited at Bilbo's door and they shamelessly demolish the contents of his pantry. The "altogether bewildered and bewuthered" Bilbo, being a very polite and timid host at first, swallows his anger and tries to please all of his surprise guests – including Balin who requests a "seed cake".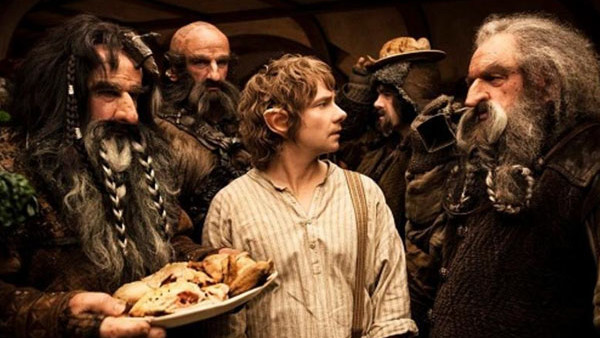 An "altogether bewildered and bewuthered" Bilbo. (source)

A couple of years ago I already made a vegan version of Bilbo's Seed Cake, going with how most people seem to interpret the "seed" in those cakes, and that's poppy seeds. However, according to the annotated version of The Hobbit, in the book it actually refers to a sweetened cake with caraway seeds! (This also corresponds with my German version of the book, in which the seed cake was translated as "Kümmelkuchen", meaning caraway cake.)

For my new and improved seed cakes I decided to go with an actual caraway seed cake, pairing it with orange, vanilla, and a dash of brandy. They are a little more bread like than a typical tea cake, and round to look like a round dwarf shield – or like Bilbo's famous green door.

Honestly, I'm so pleased with how these cakes turned out. They are wonderfully fluffy on the inside and slightly crunchy on the outside, sweet, with a hint of orange and the perfect amount of caraway flavour. Oh, and they smell amazing as they're baking, filling the house with this beautiful spicy orangey aroma! If you have guests over who like something a little different than the typical chocolate cake or blueberry muffins, this is the perfect treat for an afternoon tea. It has a very unique taste that I really like. I'm seriously thinking about serving these as part of our dessert buffet on my wedding ...

You'll never know when a group of dwarves (or hobbits!) might be barging into your home, so keep this recipe at hand.


BILBO'S VEGAN SEED CAKES
Preparation time:

60

mins
Main ingredients: flou

r

, sugar

, margarine, caraway seeds
suitable for: vegan, lactose-free, wheat-free, low-sodium, yeast-free

I
ngredients
1 1/2 cups (220 g) spelt flour (type 1050) *
1/2 cup (65 g) wholemeal spelt flour
3/4 cup (115 g) unrefined cane sugar or coconut blossom sugar
3 vegan egg replacements (I used 3 tbsp soy flour + 3 tbsp water)
1 tsp baking soda
1/4 tsp sea salt
1 cup (200 g) vegan butter or margarine
1/4 cup (60 ml) brandy or rum (or sub for apple juice to keep this alcohol-free)
2 tbsp freshly squeezed organic orange juice (* see notes below)
zest of 1 organic orange
1/2 tsp vanilla extract
2 tbsp caraway seeds (yes, 2 tablespoons! trust me on this)
1 tbsp poppy seeds
1/4 tsp ground cinnamon
1/4 tsp ground nutmeg

also:
about 2 tbsp of raw cane sugar or brown sugar


* If you are confused about that flour type, check out this website which explains the difference between German flour types and US-American flour types.


Instructions

Preheat the oven to 350 °F / 180 °C (fan). Line a baking sheet with parchment paper.

In a mixing bowl, cream together the vegan butter and sugar until light and fluffy. Add seeds, spices, vanilla extract, brandy or rum, egg replacements, and orange juice, and whisk together until fully combined. Stir in the orange zest.

In a separate bowl, combine the two flours along with baking soda and salt. Gradually add the flour mix to the wet ingredients, using an electric whisk to beat everything to combine.

The dough will be softer and stickier than for example a cookie dough, but much stiffer than cake batter. It should be stiff enough to shape into patties or buns, and put on cookie sheet. Sprinkle your leftover 2 tbsp of raw cane sugar or brown sugar over the tops.

Bake at 350F /180C for about 40 minutes, or until a skewer inserted in the centre comes out clean. Cool on wire racks. Bilbo's seed cakes are finished and ready for an adventure!

I believe they would be wonderful for having as elevenses (a mid-morning tea time snack at 11 o'clock) or afternoon tea. Although it would be good with apricot jam or marmalade and some fresh (vegan) cream, I find that the cakes are tasty enough to enjoy plain, or with a smidge of (vegan) butter alongside a good ol' cuppa tea.

If you want to stick to Balin, you may drink "a little beer" with this cake, such as ale – or you could enjoy it with coffee, a glass of (almond) milk, or even a hot chocolate perhaps?!


NOTES:

- * I juiced one organic orange (and drank the remaining juice) and added the pulp into the cake batter as well!
- If you don't like caraway, you can definitely swap them for poppy seeds, but this will take away from their distinct flavour.
- Instead of shaping the dough/batter into buns, you could also divide it among a few mini springform pans, mini loaf pans or mini Bundt cake pans for a neater look. (Unfortunately I don't have those, but it would fit the theme of Bilbo's pantry very well I think!) For some reason I always imagined Bilbo's seed cakes small and round like that, but of course you could also bake this in a regular cake pan. It's up to you!
- To make these more sweet, frost the seed cakes with an icing made of 1 cup powdered sugar, 1 tbsp of freshly squeezed orange juice, and 1 tbsp of brandy or rum (or more orange juice). Drizzle over cooled cakes, and garnish with more seeds on top.
- For freezing, wrap cooled cakes in plastic wrap and place in a ziptop freezer bag. To serve, thaw cakes, wrapped, at room temperature.


Looking for more nerdy recipes? Check out some of my other Lord of the Rings inspired creations: